Hello everyone! Another layout today and an announcement. First the announcement -
My Sketch World
is turning five (Amory wants to point that she too will be five in February) and having a super duper Sketch-A-Thon to celebrate. I know that I will get alot done next month with all of Lucy's terrific sketches - I hope you will join us!
And speaking of Lucy's brilliant sketches I wanted to show you a layout I made with the
Apron Strings
January Smaller than a Breadbox kit (this kit just kept going and going!) for the Inspiration Station this month. The inspiration station is a mid month feature we do to show you what else can be done with the sketch. I chose to turn the original sketch upside down and add more pictures. I used a paper pieced snowman to finish it off!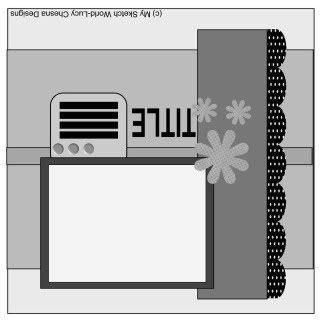 The Spitting Snowman
While at Disney we visited The Winter Summerland Miniature Golf Course and got soaked by the spitting snowman. When we went to get our ball out of the hole this snowman would spit on us. Amory enjoyed getting spit on so we sent her in to get all the balls after we figured out where the water was coming from!
Also entering this in
The Sweet Peach Crop Shop
alpha challenge.
Thank you for stopping by and have a blessed day!
Kristin