Feels good to be getting my hands on some paper, adhesive and all the bits and bobs in my stash! I combined several challenges to complete my two page layout about our family's tradition of making popcorn people for Santa instead of the cookie baking most people do. I don't bake - it is generally a disaster so I stay away from it!
For the left side of "Making Popcorn People" I used the April 21st sketch from
Sassy Little Sketches
. I changed it up just a bit to accommodate my photos.
The sketch: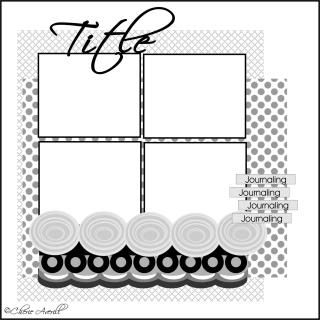 For the right side of the layout I used the April 14th sketch from
Sassy Little Sketches
. I flipped this one on its side.
The original sketch:
Putting the two sketches together I created this two page layout! I am also entering this layout in a polka dot challenge at
Paper Variety
for my yellow polka dots and a challenge at the
ScrapRoom
blog to mix lines. And boy did I mix the lines and probably crossed a few too! I used October Afternoon, Imaginisce, Cosmo Cricket papers and embellishments from October Afternoon, Heidi Grace Designs, Scenic Route and a garage sale bag of buttons!
Making Popcorn People
Thank you for stopping by and have a blessed day!